So we had termites in our laundry room. All around fun. Turns out they are subterranean - didn't even know that was a thing. But the important part of this story is the exterminator's name. DEADRICK. And that's his first name!
What?! What all around gloriously perverted and wonderfully demented parents saddled their newborn with a name so perfectly fit for the end of life? I think it might have to be incorporated in one if our tombstones.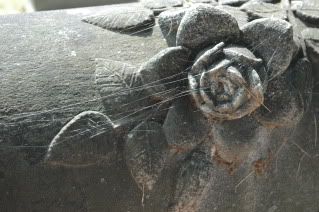 Image by Hartwood Roses at hartwoodroses@blogspot.com.
Spiderwebs on a tombstone in Hollywood.
My husband has a relative named Ineta Cox - seriously! (Might have to make an obelisk out of that one) And although Ms. Cox's name is a bummer, it isn't all that Halloweeny. Deadrick on the other hand is downright perfect! Anyone
out there come across some Halloween appropriate names during their travels?